Father's Day Promotion - Announcing the 3 Finalists
Nominee #1 - Tim Peacock
Nominated by: Levi Peacock
I am Tim's son and I can't leave the house for one day without him calling or texting saying "I miss you!" Or "when are you gonna be home?". He's always caring. He's always wanting to do stuff with my brother and I. He's always teaching us how to fix things at the house. He is such a great person and an even better father. I couldn't live life without him, and I know he couldn't live without his two sons. I love him with all my heart and he's done so much for my brother and I, so that's why I have nominated him. I believe he needs to be rewarded for what's he's done.
When I was little he would always take my brother and I to Hardy Lake to swim. We'd always go fishing together and I remember he taught me how to tie knots for fishing. He taught me how to hunt for deer but he always makes it a competition which I love! He taught me how to shoot guns properly. He always has me help him around the house with the farm animals. I have many great memories with my dad, and what I have just wrote is only a fraction and there will be many more memories to come.
Nominee #2 - Tony Thompson
Nominated by: Taylor Wayt
My dad Tony is the most amazing man I have ever met. He raised my sister and I as his own when he didn't have to. No questions asked he stepped right up. He is always the most caring person I have ever met. He'd give anyone the shirt off of his back to help them if they needed it. Not only is he the best dad he is the most amazing papaw as well! My dad has always had to deal with girls in his life. With having five sisters and two daughters he finial got a grandson and has been spoiling him since day one!
My favorite memory is every year we try to go to a Butler basketball game. It's my favorite time of year getting to take him to watch his favorite sport and to be able to bond with him.
Nominee #3 - Jason O'Neal
Nominated by: Jorga O'Neal
My daddy takes very good care of me and my family. I require many special needs on a daily basis. My daddy works very hard at work and at home. He provides daily hands-on care to me. He is a spiritual leader at home and at our church. I know my daddy will do anything needed to provide for me.
(Melanie helped me type this because I am special needs and cannot do it myself)". My daddy does daily things for me such as helping take care of me daily, cooking and cleaning our home, and works very hard every day to provide all of my needs and wants. My favorite thing to do each year is to go on vacation with my family. My daddy takes me parasailing, out to eat, and spends days with me at the beach. I also love that my daddy has brought me up in church teaching me about our Lord. I have a relationship with Jesus because of the teaching and influence I've received from my daddy. I'm thankful God chose my daddy for me
A winner will be announced on June 13th at 8:30am during the Morning Blend with Beck Show on WJAA 96.3.
A huge thanks to General Rubber, Poplar Street, Fishin Tales Bait and Tackle, Napa Auto Parts and Jeff's Carwash for helping to make Dad's day special.
Win a rod and reel from Fishin Tales Bait and Tackle
$50 gift certificate to Poplar Street Tavern
A Milwaukee bag chair and wireless jobsite speaker from General Rubber
---
96.3 WJAA Total Rock Radio
Total Rock Radio WJAA 96.3 has been rocking South Central Indiana for over 30 years and plays the best rock music from the 70's, 80's, and 90's.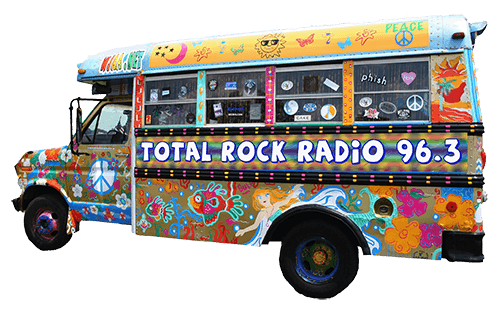 Our entire staff was born and raised and live in Jackson County and we love to serve the community we live in! We are actively involved in fundraisers such as the Jackson County United Way Fund Drive, Big Brothers Big Sisters Bowl for Kids Sake, The Anchor house Hairless for the Homeless, Southern Indiana Center for the Arts, READ Jackson County, Seymour Main Street, Sertoma Christmas Miracle, Thanksgiving Essay Contest and much more!
We are excited about our morning show called the Morning Blend with Beck! This show has games, giveaways, music, news, sports, community information, a poll question of the day and lots of live listener call in's and audience interaction. Just like a strong cup of coffee, Beck will get you rocking every morning 6:00am till 10:00am.
Total Rock Radio 96.3 is a one stop marketing shop! Business owners can count on us for not only radio advertising, but also text alerts, E-blasts, and Social Media Management!
Total Rock Radio 96.3 is a community oriented station that has a loyal fan base with a disposable income. Our listeners love to join the "Cool Bus" out and about and get their pictures taken with our mascot Rocky The Raccoon. The "Cool Bus" can be found at concerts, arts events, Bus-stock, parades, and festivals around the community. Total Rock Radio reaches Jackson, Jefferson, Jennings, Bartholomew, Lawrence, Washington, and Scott Counties. At Total Rock Radio 96.3 WJAA we pride ourselves on rocking our audience and supporting our community!
Put Rocky the Raccoon to Work at Your Business